Vital Signs USA : Chicago's Source for Signs
Vital Signs USA, Inc. is the premier Chicago-area custom sign company, serving customers in the Midwest region and across the nation.
Professional, friendly and responsive service is our hallmark. Whether your need is simple—such as a single sign or banner—or a complex campaign involving multiple sign types in many locations, such as Elmhurst, Schaumburg, Oak Brook, Lombard, Naperville, or beyond, Vital Signs USA has the expertise and resources to ensure your project is completed in a timely and cost-effective manner.
Get a quote on custom business signs that will speak to your company's brand today!
Vital Signs USA in Action
Installation of the drive-thru fixtures for new Starbucks location in Elmhurst, IL.
 
Testimonials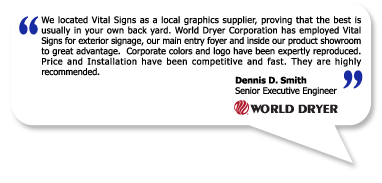 Vital News!
Posted on 01/16/2017

Video has become increasingly prevalent online as the most shareable posts on Facebook and the fastest route to gaining a new follower. How can your small business get involved?

Posted on 01/09/2017

When it comes to marketing, most small businesses stick to the traditional sense of the word. But, there are some areas that few businesses branch into, but can come with high rewards.

Posted on 01/02/2017

Technology sounds great, but how can it benefit your business? Turns out, in a lot of ways. Check out these ways you can leverage augmented reality to grow in 2017.