Vital Signs USA : Chicago's Source for Signs
Vital Signs USA, Inc. is the premier Chicago-area custom sign company, serving customers in the Midwest region and across the nation.
Professional, friendly and responsive service is our hallmark. Whether your need is simple—such as a single sign or banner—or a complex campaign involving multiple sign types in many locations, such as Elmhurst, Schaumburg, Oak Brook, Lombard, Naperville, or beyond, Vital Signs USA has the expertise and resources to ensure your project is completed in a timely and cost-effective manner.
Get a quote on custom business signs that will speak to your company's brand today!
Vital Signs USA in Action
Installation of the drive-thru fixtures for new Starbucks location in Elmhurst, IL.
 
Testimonials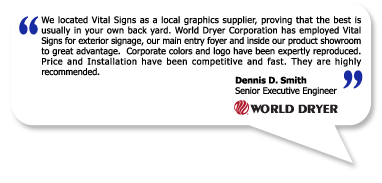 Our Blog
Don Meyers on 08/22/2016

If you're lost on sign terminology, check out our guide to sign terms!

Don Meyers on 08/19/2016

Learn why you should hire the pros for professional sign installation services!

Don Meyers on 08/17/2016

Do your retail store signs in DuPage County IL need an update?