Vital Signs USA : Chicago's Source for Signs
Vital Signs USA, Inc. is the premier Chicago-area custom sign company, serving customers in the Midwest region and across the nation.
Professional, friendly and responsive service is our hallmark. Whether your need is simple—such as a single sign or banner—or a complex campaign involving multiple sign types in many locations, such as Elmhurst, Schaumburg, Oak Brook, Lombard, Naperville, or beyond, Vital Signs USA has the expertise and resources to ensure your project is completed in a timely and cost-effective manner.
You won't find any cookie cutter solutions here. Our team of experts can create custom business signs and other types of custom signage for your business. Call us or stop in today to get your unique, custom business sign that will speak to your company's brand.
Testimonials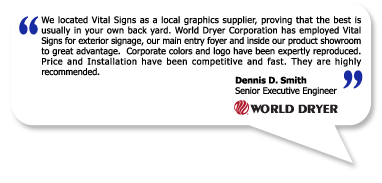 Vital Signs News
Posted on 04/25/2016

Writing doesn't have to be your strong suit to succeed at content marketing. Follow these tips to ensure that your content strategy is moving in the right direction.

Posted on 04/18/2016

Building a logo is only one part of your brand, but it's also an incredibly important visual representation of what you do. That sounds like a lot of pressure, but there are some easy steps you can take to make sure your logo has lasting power and conveys exactly your mission.

Posted on 04/11/2016

The single most important aspect of marketing is to make sure that the message you want to convey is the same message that your audience receives. That means your business needs to develop a clear, concise message that is easily relatable with your marketing efforts.